TARTU SEGARAHVATANTSURÜHM
KUSTA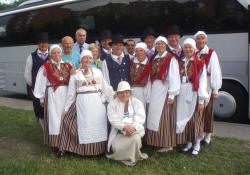 Kusta
Mixed folk-dance group "Kusta" celebrates its 63rd anniversary this year (2010). Group´s name "Kusta" comes from the famous and beloved folk-dance instructor and group's founder Kusta Rodima. There are 20 long-experienced dancers in the group. "Kusta" is classified as a group of dance veterans. Group is instructed by Liidia Konsa and musical accompanist is Elve Kalmre.
Group has participated in:
National and local dance festivals
Võru Folklore Festival
Hansa Days
ESTO days (Riga, Latvia)
Winter Dance Days (Viljandi, Kambja, Ida-Virumaa)
Europeade Folklore Festival (Klaipeda, Lithuania)
Group has also performed in Finland, Kihnu, Tallinn, Võru, Värska, Elva and many other places.